Open letter to future apprentices
Here at Dogsbody HQ we have found one of the the best ways to grow our business and get the skills we require is to run an apprenticeship programme.
We interview throughout the year looking for the keenest candidates. Having hired 7 apprentices over the past 5 years and interviewed many many more we thought we would share with all our future employees what we take away from your first impressions.
The world of work can be a scary prospect and completely different to your school and college days.
Your first full time position and the steps to secure it can be daunting so here are some hints and tips for what we at Dogsbody Technology like to look for in our candidates:
Submitting your CV
You have found the job you want and are ready to submit your CV – The first impressions start from this moment so:
Submit your CV in PDF; It means your prospect employers sees it the way you intended – send it in .doc or .odt and it can lose its formatting.
Use an appropriate email address; bigcheeks@example.com may have been appropriate for your Amazon account but not for your CV. Email addresses are free, get an appropriate one.
Switch on your Voicemail; If you're busy and I call, how do you know I will bother calling back?  Which leads me to my second point…
Set a Voicemail message – If the default VM message is just your number how do I know I have reached the correct person? Make sure you set a message like 'you have reached the mobile of (you). Please leave a message'.
Answer your phone politely; I know 'unknown to you' numbers could be spam but when you're applying for jobs you have to answer the phone as if it's your future employer! If you want to be extra organised put the office number of the companies you applied to in your phone so it hopefully comes up 'Dogsbody Technology' but never answer the phone 'yes'… not a great first impression…
Impressing in a CV or interview (telephone or face to face)
It's potentially your first full time job (but we hope you have done something else) so make sure you tell us what you have done – in your CV preferably.
Dogsbody Technology give every applicant a telephone interview… why? Because we once hired someone whose CV never mentioned anything about all of the technical things they had done – it was only in the telephone interview they mentioned them – if we hadn't called we would've never known!
Things to mention
Work experience – Work Experience is invaluable – It doesn't have to be in the field you are applying for a job in now (IT for us) but it shows so much. The classic 'Saturday job' is still a strong tick in the box.
If you have tinkered with tech – You earn big points if you tinker with tech – get a Raspberry Pi, Install Ubuntu on your laptop, even AWS servers are pennies to run – don't just follow the guides parrot fashion – Explore, find out what the commands you are typing actually do!  An apprenticeship is about learning on the job and practical experience. When they don't teach this stuff in school we want to see you are keen to teach/learn yourself.
Things to remember
Playing games is not an interest in computers – Sorry but its a hobby, unless you want to be a games developer or games tester than playing computer games is not an interest in computers. We all play computer games at Dogsbody Technology but it doesn't help us be a Sysadmin 🙂 List it under hobbies.
Grades aren't everything – Your teachers will hate us for saying this however unless you want to be a doctor or have to get specific grades for a college/uni course then if academia isn't your thing don't worry. Apprenticeship are designed to be for the practical among us. To do an apprenticeship you need Maths and English at grade C (4 in the new system) or above, but even if you don't have that you can do a key skill module during your apprenticeship to get you there.
Finally we loved this image from Dave Cornthwaite; add "Good Manners" and we think it a pretty good starting point…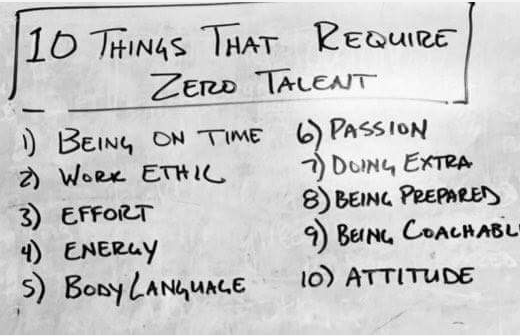 Potential is essential  – What we do isn't taught in schools/college so we don't expect you to know it all but we do expect you to be passionate about tech.
If you want to join an established company who is an established Apprenticeship provider in Linux Sysadmin then apply now for our proven Linux Apprenticeship
Want more Apprenticeship advise – read our Apprentice Guide: How to Impress IT Employers
https://www.dogsbody.com/wp-content/uploads/job-1257202.jpg
1664
5000
Claire Christmas
https://www.dogsbody.com/wp-content/uploads/Dogsbody-site-logo-1.png
Claire Christmas
2018-06-21 10:33:12
2021-08-10 19:13:35
Open letter to future apprentices