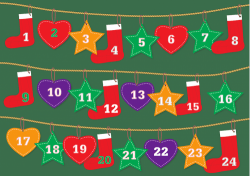 #FoodbankAdvent 2017 – The Reverse Advent Calendar
As Foodbank demand soars in the UK Dogsbody Technology are proud to announce that this year instead of further charity giving or sending corporate gifts we will be taking part in the Reverse Advent Calendar #FoodbankAdvent by donating essential items to our local Farnborough Trussell Trust Foodbank.
December is the busiest month of the year for foodbanks, with 45% more referrals during the two weeks before Christmas. More than 90% of the food donations comes from the public.
The Trussell Trust runs the largest network of foodbanks in the UK, giving emergency food and support to people in crisis. Thirteen million people live below the poverty line and in the last year they gave 1,182,954 three-day emergency food supplies to people in crisis – up over 6% from the previous year. Of this number 436,938 went to children.
What is a Reverse Advent Calendar?
Traditionally advent calendars are something you open each day from the 1st to the 25th December and get a reward. It used to be a tiny picture or a chocolate, now adults can indulge themselves with everything from make up to alcohol!.
Instead with the Reverse Advent Calendar you start with nothing (empty box) and put one item for your local food bank into it every day. You could do this for 25 days to mirror the advent calendar – or perhaps for a whole month.
Follow us on social media to see our Advent grow!
Throughout December we will be posting updates on how our calendar is growing and our aim is to donate over 60+ items in total.
Want to take part too? Its not to late to start!
Read Trussell's Trust's What goes in a food bank parcel and non food items to see the items they like to be donated
Find your local Trussell Trust food bank or donate to others in your area.
Look at your local food bank's website for the list of items they urgently need.
Donate long life items (tinned or dried) so as not to waste fresh food (which goes off quickly)
Get your donation to the food bank by early December for them to be useful for Christmas
If you want to collect an item a day as per the advent calendar, then your donations will be just as welcome in January as winter sets in!
In one of the richest countries in the world, no one should be hungry at any time of year but especially not at Christmas. Dogsbody Technology hope to make a small difference to someone this Christmas.
Update: Dogsbody Technology donated 74 items to Farnborough Trussell Trust Foodbank #FoodbankAdvent weighing in at 37.1 Kg!
It was great to give something back to our community and the Trussell Trust Foodbank were very pleased with our donation – it is definitely something we will repeat!
A big thank you to all our customers and suppliers who have sent us season greetings, cards and presents – Dogsbody Technology are pleased to have such awesome allies 🙂
We wish all our customers, suppliers and supporters a very Merry Christmas and a Happy 2018.
https://www.dogsbody.com/wp-content/uploads/Screenshot-from-2017-11-17-14-08-28-e1510927792890.png
176
250
Claire Christmas
https://www.dogsbody.com/wp-content/uploads/Dogsbody-site-logo-1.png
Claire Christmas
2017-11-28 11:34:48
2019-12-16 11:09:09
#FoodbankAdvent 2017 – The Reverse Advent Calendar