Infographic: How to keep your .EU domain after Brexit
Following the withdrawal of the UK from the European Union on 01 February 2020, many owners of .EU domains based in the UK will no longer be eligible to own their domains.
If you own a domain ending .eu then you have until 01 January 2021 to ensure that it is correctly registered else it will be taken away from you.
What should I do?
You must check that the domain is registered to a European Union citizen, location or legal entity.
You can check the specifics on the EURid website or we have made the following handy infographic to get you started…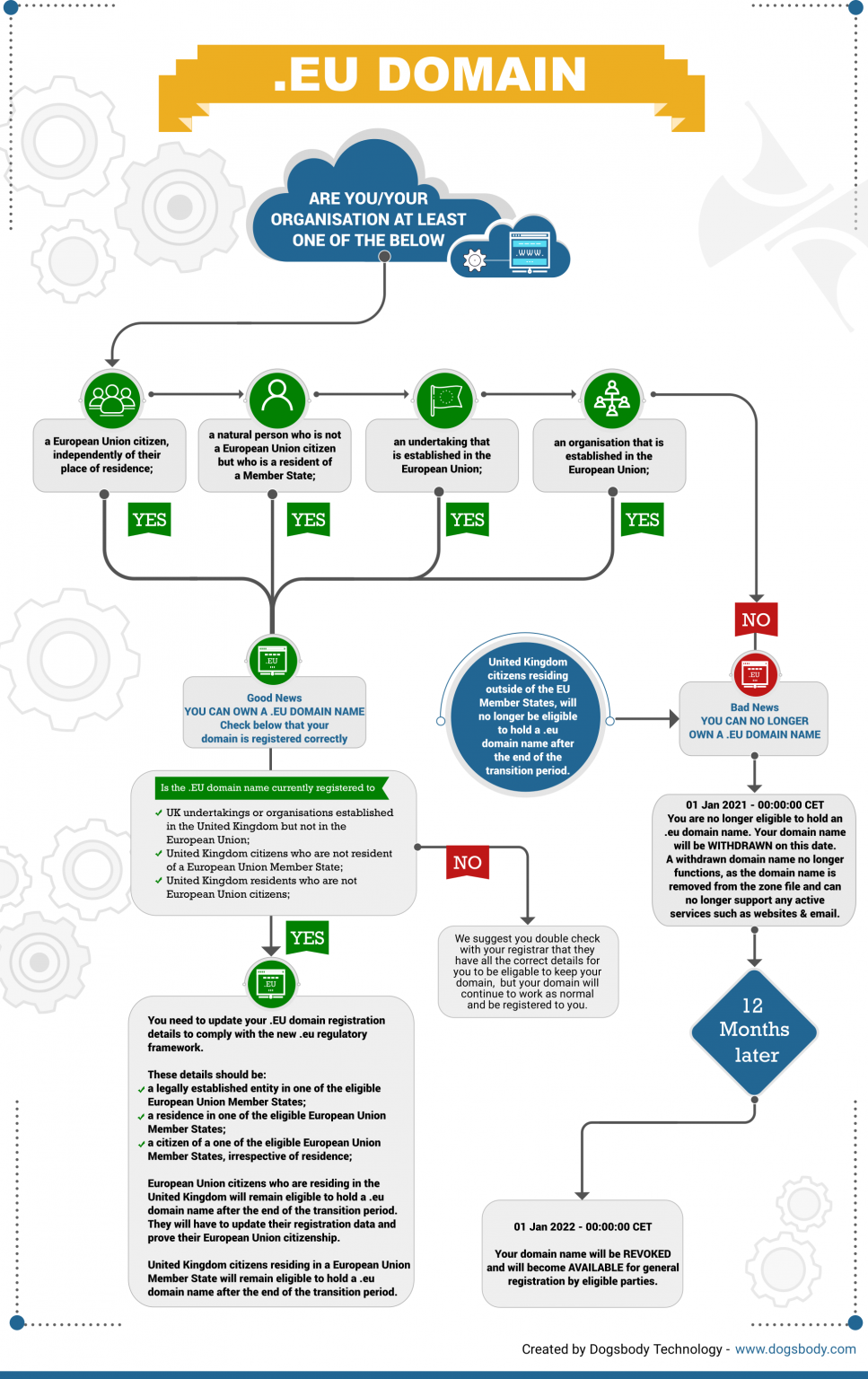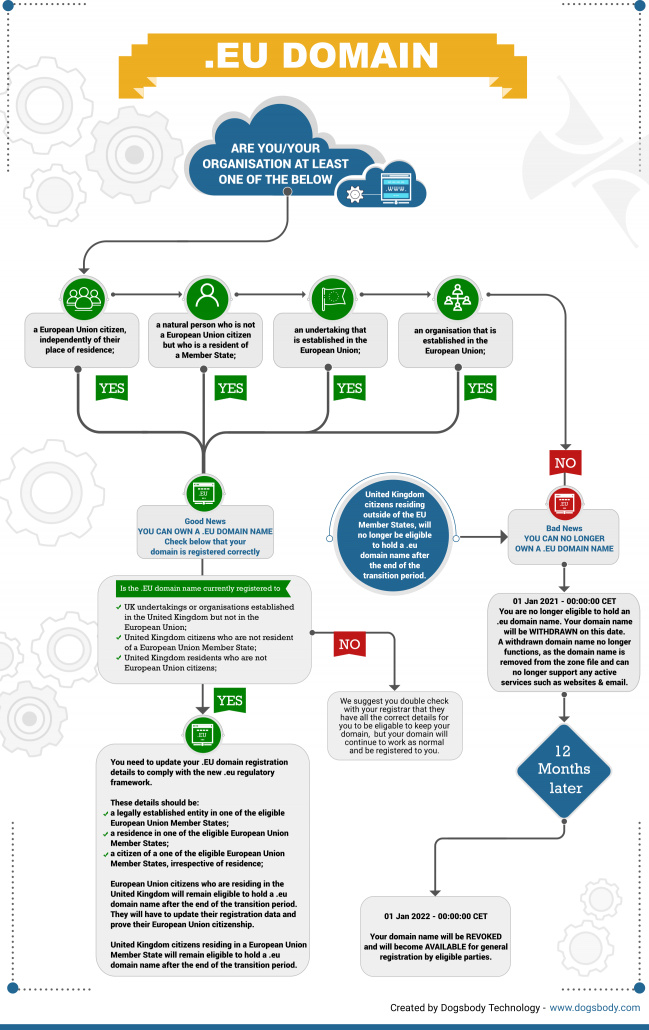 Why is this happening?
Due to the UK leaving the EU (commonly called Brexit), many UK-based owners of .EU domains no longer meet the .EU eligibility requirements.
The following are eligible to register .EU domains:
a European Union citizen, independently of their place of residence;
a natural person who is not a Union citizen and who is a resident of a Member State;
an undertaking that is established in the Union; or
an organization that is established in the Union, without prejudice to the application of national law.
Timeline
01 February 2020, the United Kingdom left the European Union. The withdrawal agreement provides for a transition period until 31 December 2020.
01 October 2020, EURid will e-mail any UK based owners of .EU domain names that they will lose their domain on 01 January 2021 unless they demonstrate their compliance with the .eu regulatory framework by updating their registration data before 31 December 2020.
21 December 2020, EURid will email all UK based owners of .EU domains who have not demonstrated continued compliance with the eligibility criteria about the risk of forthcoming non-compliance with the .eu regulatory framework.
01 January 2021, EURid will again email all UK based owners of .EU domains that their domain names are no longer compliant with the .eu regulatory framework and are now withdrawn. Any UK registrant who did not demonstrate their eligibility will be WITHDRAWN. A withdrawn domain name no longer functions, as the domain name is removed from the zone file and can no longer support any active services (such as websites or email).
01 January 2021, EURid will NOT allow the registration of any new domain name by UK registrants. EURid will also not allow either the transfer, or the transfer through update, of any domain name to a UK registrant.
01 January 2022, all the affected domain names will be REVOKED, and will become AVAILABLE for general registration. Their release will occur in batches from the time they become available.
I own a .EU domain and meet this criteria
Great! but don't celebrate just yet. It is vital that you go and check that your domain has the correct details against it. EURid can only see the information in your domain registration so ensure that these details match the criteria.
I own a .EU domain but don't meet this criteria
Here's where things start to get tricky.
Obviously, if you do have a trusted person (a co-director) or second location within the EU then the easiest thing would be to move your domain to their details.
You can go and setup an office abroad! We have heard of people becoming an e-resident of Estonia, which maybe a little overkill but does come with some other added EU advantages.
Some registrar's are allowing you to use them as a proxy for registering a .EU domain. Their details will be the official domain details with their promise to pass correspondence onto you.
If any of this is too much for you then give us a shout, we are here to help.
Please feel free to share this infographic with anyone you feel may find this useful using the buttons below.
Feature image by Elionas2 under Pixabay Licence.
https://www.dogsbody.com/wp-content/uploads/eu-1473958_1920-e1595942365161.png
849
1920
Dan Benton
https://www.dogsbody.com/wp-content/uploads/Dogsbody-site-logo-1.png
Dan Benton
2020-07-28 13:59:11
2020-07-28 14:38:49
Infographic: How to keep your .EU domain after Brexit