Infographic: Losing the automatic right to .uk
If you own any third-level domains ending .uk then the matching second-level .uk domain may have been reserved for you until 25 June 2019.  For example, if you own example.co.uk your ability to register the shorter example.uk may have been reserved.
After 1 July 2019 any reserved .uk domains that have not been registered will be released into the public domain meaning they can be registered by anyone.
What should I do?
Assuming you want the shorter .uk version of a domain then there are a number of checks to go through.  You can check the rights to a domain on the Nominet website or we have made the following handy infographic to get you started…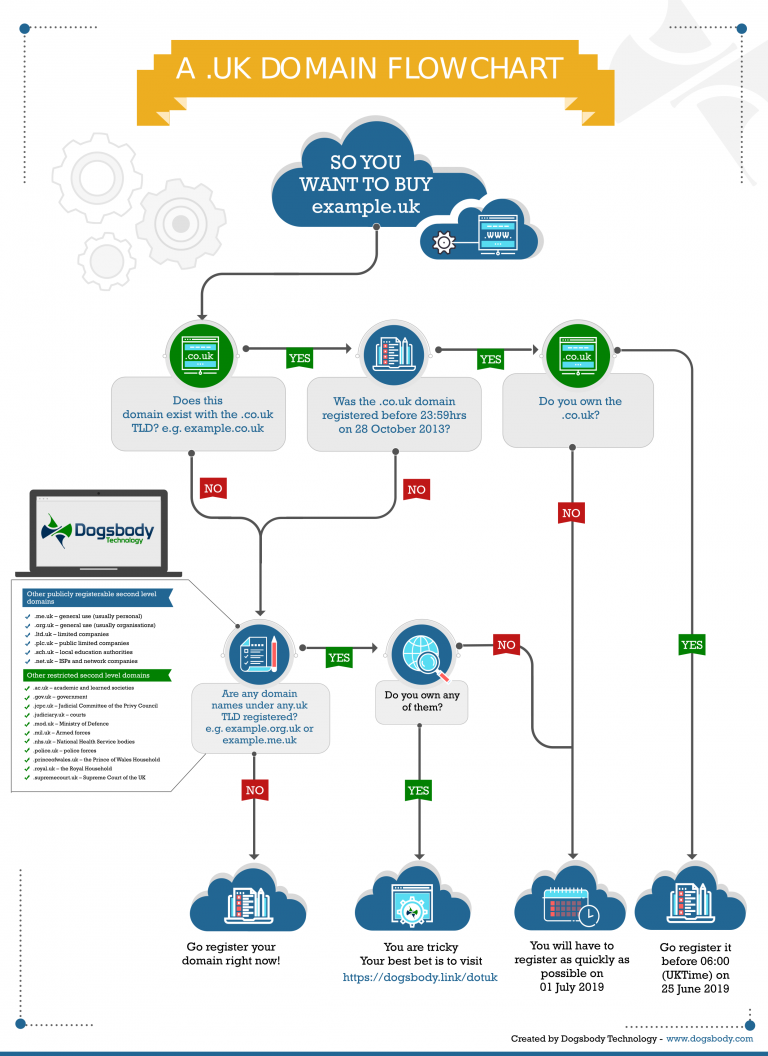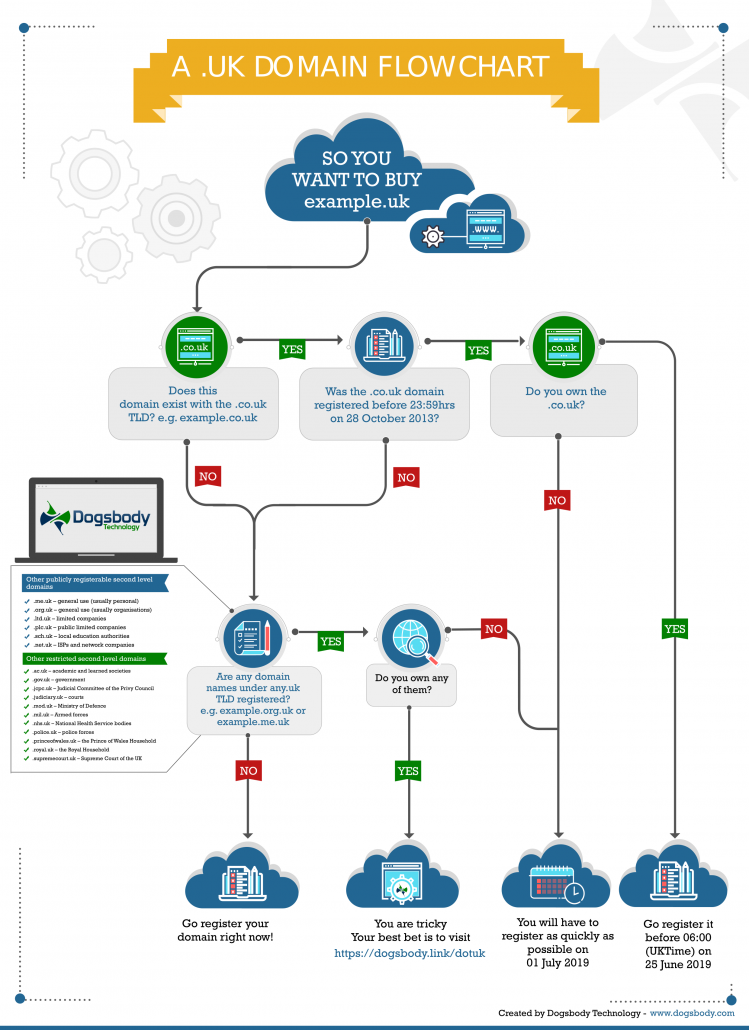 Why is this happening?
In June 2014 (5 years ago) Nominet, the controllers of the .uk Top Level Domain (TLD) decided to allow people to register second level domains.  That is, to allow people to register example.uk (second level domain names) instead of being forced to register example.co.uk, example.org.uk, example.ltd.uk etc. (third level domain names).
They wanted to make it fair for existing rights holders and domain owners to obtain one of the shorter .uk domains and so locked access to stop anyone registering any domains that already existed as third level domains for 5 years.
Five years later and that time is now up.  In July 2019 anyone will be able to register any second level .uk domain no matter whether the equivalent third level domain is registered or not.
I'm eligible – How do I register the .uk version of my domain?
Contact your current registrar who will be able to help you with this. Remember you need to register the .uk domain name yourself before 6am BST (UTC+1) on the 25th of June 2019.
There is a .uk domain I want but am not eligible  – what can I do?
Wait…. If the eligible party don't purchase it then it becomes publicly available to be purchased by anyone from the 1st July 2019.
We plan on doing a follow up blog post nearer the time on "name dropping" services that can be used to grab the domains you want when they become available.
If any of this is too much for you then give us a shout, we are here to help.  Do remember though… a domain name is for life, not just for Christmas 😉
More detailed information on this subject can be found on nominet.uk.
Please feel free to share this infographic with anyone you feel may find this useful using the buttons below.
https://www.dogsbody.com/wp-content/uploads/ukdomaininfographic.png
3410
2480
Claire Christmas
https://www.dogsbody.com/wp-content/uploads/Dogsbody-site-logo-1.png
Claire Christmas
2019-05-21 14:06:48
2019-05-21 14:23:00
Infographic: Losing the automatic right to .uk