Press Release: Bracknell Jelly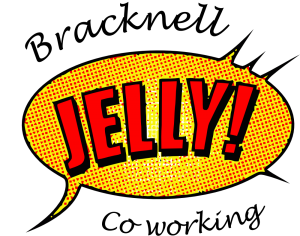 For immediate release
07 February 2013
Free Jelly Co-Working Event For Bracknell Home Workers and Self Employed To Launch Next Week at Enterprise and Innovation Hub
A revolutionary co-working 'Jelly' event for freelancers, home workers and small business owners in Bracknell and surrounding areas will take place at the Bracknell Enterprise and Innovation Hub next week after massive success in the United States.
Set to take place on the second Thursday of every month, Bracknell Jelly is a free event where the region's self-employed, small business owners and home workers can work, chat and collaborate with each other without having to pay for meeting rooms or office space. It gives local people the chance to get out of the (home) office and work alongside other like minded people for one day every month for free.
The Bracknell Jelly has been organized by local consultancy firm, Dogsbody Technology. Founder Dan Benton said, "For some people it's having a different chair to sit on, for others it is having someone saying bless you when they sneeze. I was a home worker for many years and know how lonely it can get and how useful having other people around as a sounding board can be. I was inspired after hearing about the success of Jellies in America and decided to organise one in Bracknell as a way of giving something back."
Registration for the Bracknell Jelly is free and sessions are scheduled every month throughout the year. The meeting room space has been donated by the Bracknell Enterprise and Innovation Hub, giving home workers the opportunity to work in a professional environment for the day without sacrificing internet access or productivity.
Each Jelly is a mixture of work, chat, helping others with business issues, passing on tips and perhaps even collaborating on a new project. There are thought to be around 30 active co-working Jelly events around the UK. Bracknell home workers feeling isolated or lacking inspiration can register for free to attend any Jelly event at the Bracknell Enterprise and Innovation Hub. Spaces are available for the next event, which takes place on Thursday February 14th. To register, visit http://www.bracknelljelly.com
About Bracknell Jelly: Bracknell Jelly is a free monthly informal co-working event where freelancers, home workers and small/micro business owners can and work, chat and collaborate with each other.
About Dogsbody Technology: Dogsbody Technology Ltd is a Linux consultancy company providing bespoke solutions that help clients get the best out of technology. Previous work has involved security control, virtualisation platforms, cloud computing and high availability networking. Its services are not limited to Internet facing technology or networking and it has previously consulted on electronics and automation.
-ENDS-
https://www.dogsbody.com/wp-content/uploads/7K0A0438.jpg
1333
2000
Dan Benton
https://www.dogsbody.com/wp-content/uploads/Dogsbody-site-logo-1.png
Dan Benton
2013-02-07 15:44:57
2013-02-07 15:44:57
Press Release: Bracknell Jelly