Electromagnetic Field 2022
As people enjoyed the 4 day Jubilee UK Bank holiday with street parties, parades and union jack bunting, Dogsbody Technology staff spent the weekend in a field at Eastnor Castle, Herefordshire for Electromagnetic Field 2022 (EMF Camp).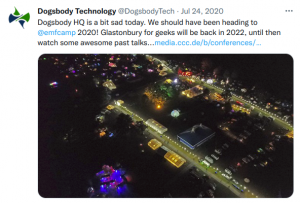 The event is every 2 years and Dogsbody are no stranger to it having attended three previous EMF's… but the last one was in 2018 with 2020 (of course) being cancelled.
If anyone asks what Electromagnetic Field is we say "Glastonbury for Geeks". Featuring super fast 1Gbps symmetrical internet connection and power to your tent, robots galore, multiple geodesic domes, enough LED to see from space, laser beams and tons of workshops, talks and a free to play arcade. This is our kinda place.
The event is also family friendly with childcare and youth workshops available so you can take the kids (if you really want too).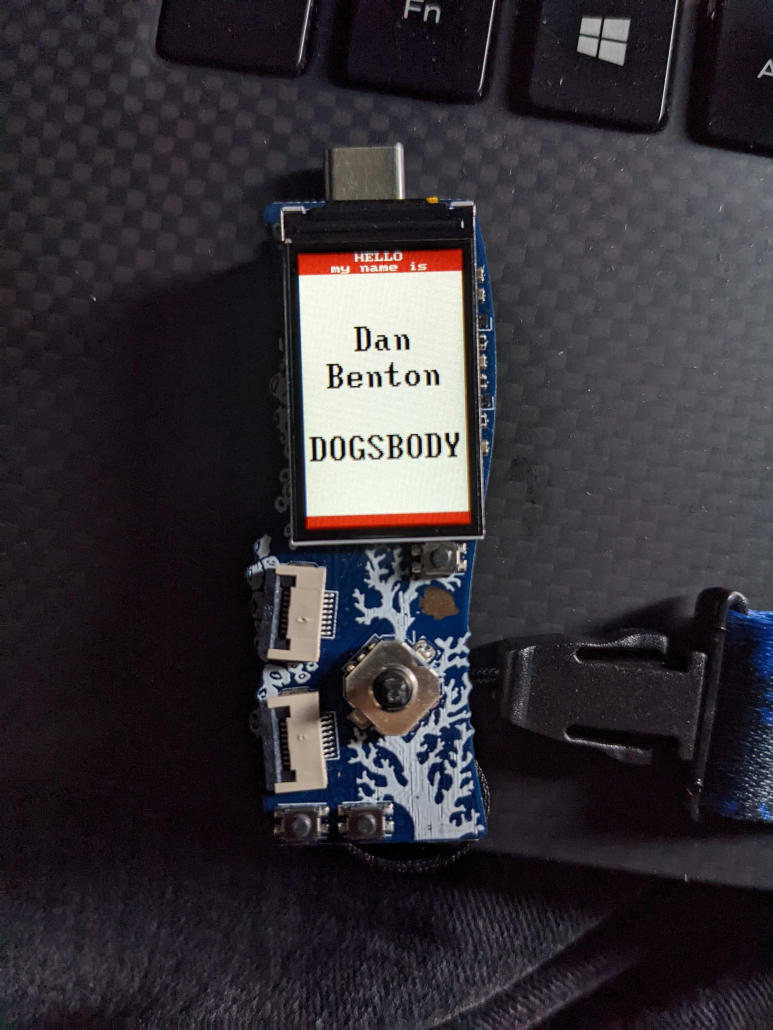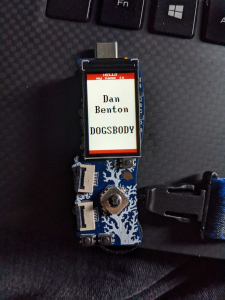 There were hundreds of things to see and do over the 4 day weekend, including 144 talks and 79 workshops. Some of the talks were recorded, we'll add the relevant links to these once they are live.
Each year, as part of the ticket price, you get a badge…..but this is no ordinary badge.
This years had an array of features including a USB-C plug, display, joystick and buttons. It can connect to wifi and has an app store.
It even has a cryptographic accelerator chip meaning it can be used as a hardware authentication device (equivalent to a YubiKey).
Our favourite bits…
Picking a favourite part of EMF Camp 2022 is hard but here are some of the highlights Dogsbody took away with them.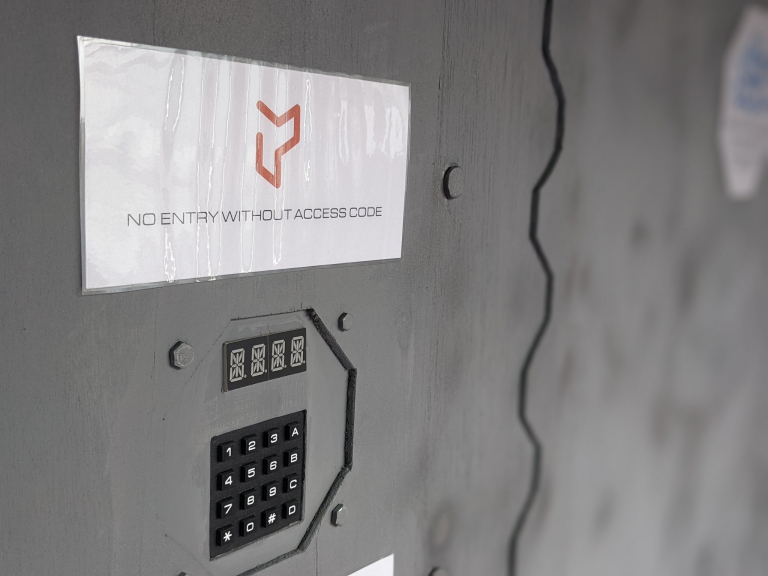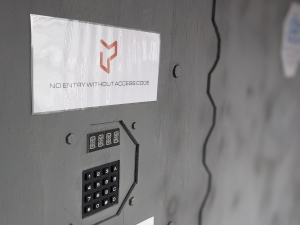 Claire:This is my 4th EMF camp and everyone has been different. This year I attended less talks but completed a Puzzlehunt – why? Cause we wanted to see what was behind the door in the now infamous Null Sector! We did and it was awesome! Thank you to Dreamcatcher for the hard work that went into creating it!
I also love the commitment people put into creating the fun… EMF Ducks and emfSpiders are my new favourite EMF Camp twitter feeds.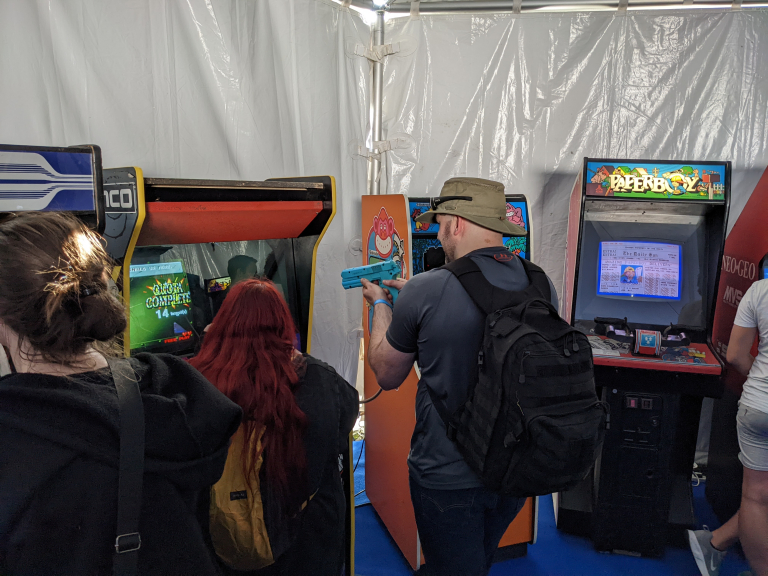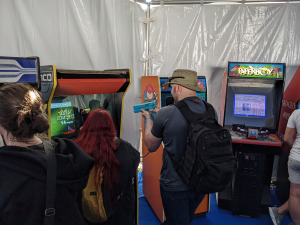 Josh: What struck me most about emf camp is it's scale, openness, diversity and detail. The more you look the more you see. The more you do the more you find. You can dive deep into one thing or spread yourself and try to absorb it all. Which you won't be able to do and I'm quite sure that if I could turn back time and rerun the event I could have a wholly unique experience several times over.
From puzzles to arcade games, algorithmic raves to karaoke, geodesic domes to Kraken's and fire tornadoes – you'll never see it all. And that's OK. Serendipity is the joy of it and you just surf the highs – getting top score on Nameco Point Blank; and the lows – sitting alone on a bench in the wind and rain, crying into a burrito having just watched 'An Engineer's Guide to Grief' and stewing on it's gaze into the abyss of loss.
Most seriously, I'm grateful EMF Camp exists. It serves as a reminder that there are like-minded people out there in the world, people interested in the things you are and open to the things you think, even if your everyday lived experience couldn't be further from that reality. Four days wasn't quite enough to lower shields raised to a lifetime of endured indifference. But it did offer a glimpse of what could be. And anyway, there's always next time.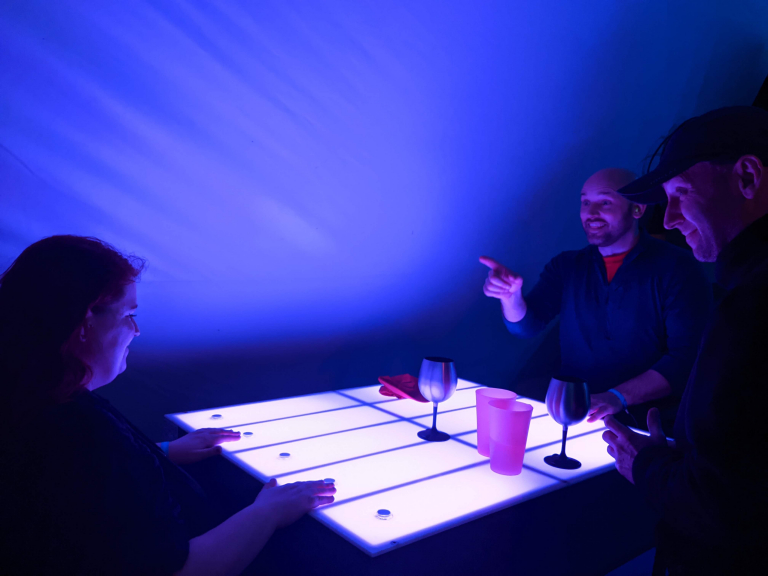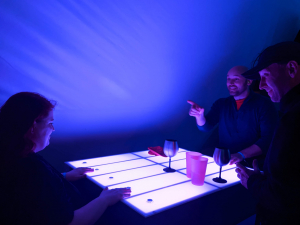 Ashley: As a Space and Statistics fan, the Astro Pi Mark II talk was one of my favourites. The presentation followed a standard Raspberry pi from the factory in Wales, through rigorous international testing with NASA and everywhere in between. Ending with the Pi finally ending up, fully intact and working, on the International Space Station. In addition to the journey, Richard Hayler gave an explanation of Mission Zero, a Python challenge for young people under 19 to code their own programs to be deployed and run on the International Space Station, something I know my daughter and I will taking a look at.
My main highlight though, has to be melting some brains and destroying everyone at FLUX.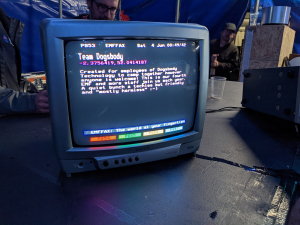 Dan: Where to start! Every time we go to EMF I am in awe of the dedication of everyone that attends. It is the living embodiment of the old adage that the right group of people coming together can easily be greater than the sum of their parts. I've seen so many people riffing off of something that someone else said.
Where else will you see event information being distributed by a fully working Teletext system to CRT TV's around the site…
The highlight for me has to be watching an entire tent erupt into a singalong version of Evanescence (Bring Me To Life) inspired by our own Ashley and Josh. It has already gone down as folklore in the office and I think there may even be a video somewhere but that maybe embargoed 🙂
Stats and Thanks
We geeks love a stat, so here are some from the event:
2,636 checked in (attended)
556 volunteered whilst the event was running, manning talks, videoing talks, logistics, helping in the shop etc
10,800 unique devices seen on the network ( an average of ±3.6 device per visitor)
EMF camp is a completely non-profit event and is entirely organised and run by a dedicated team of volunteers. Whilst we were onsite for 4 days, volunteers had been on-site setting up, and tearing down afterwards, for almost 2 weeks!
A BIG Thank you to all the people who make this event possible!
Here are some of our favourite photos from this years event.
https://www.dogsbody.com/wp-content/uploads/2022-06-04-01.49.03-scaled.jpg
1920
2560
Claire Christmas
https://www.dogsbody.com/wp-content/uploads/Dogsbody-site-logo-1.png
Claire Christmas
2022-06-10 14:38:53
2022-06-10 14:38:53
Electromagnetic Field 2022